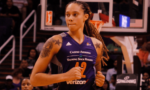 Detained WNBA star Brittney Griner has been found to be in "good condition" after being granted consular access from the U.S. embassy.  Griner is being detained in Russia on drug smuggling charges since February. The Russian Federal Customs Service said its officials had detained the basketball player after finding vape cartridges that contained hashish oil in her luggage at the Sheremetyevo airport near Moscow. The 31-year-old Griner has played for UMMC Ekaterinburg in Russia for several years during the WNBA offseason.
U.S. State Department spokesman Ned Price told CNN on Wednesday, "within the past couple hours, an official from our embassy has been granted consular access to Brittney Griner… Our official found Brittney Griner to be in good condition and we will continue to do everything we can to see to that she is treated fairly throughout this ordeal…We will continue to work very closely with her legal team, with her broader network to see to it that she is treated fairly. That is a message that we continue to convey in no uncertain terms to the Russian Federation."
A Russian court extended the detention of Griner until May 19, according to Russian news agency TASS. Griner's Russian legal team has seen her multiple times per week over the course of her detention. A hearing was held Thursday with the sole purpose of Griner's legal team challenging her detention, with the hope of having her transferred to house arrest, but is expected to be denied.  Once the full investigation has concluded, a trial date will be set.
Editorial credit: Keeton Gale / Shutterstock.com