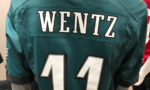 As first reported  by ESPN's Adam Schefter, the Washington Commanders have agreed to acquire quarterback Carson Wentz in a trade with the Indianapolis Colts.  The Colts will get two third-round picks from Washington in return and the teams are set to swap second-round picks in this year's draft as part of the deal. The trade cannot be finalized until the new league year begins March 16.
Wentz is now set to play for his third team in as many seasons. He just completed his first season with the Colts after being traded prior to the 2021 campaign to Indianapolis from the Philadelphia Eagles, where he played the first five years of his career. Last year, Wentz completed 62.4 percent of his passes for 3,563 yards, 27 touchdowns and seven interceptions. He led the Colts to a 9-8 record, but had one of his worst games of the season in a Week 18 loss to the Jaguars that eliminated Indianapolis from playoff contention
Washington was looking to upgrade its play at quarterback after going 7-10 behind Taylor Heinicke. Heinicke posted a 7-8 record in his 15 starts and a passer rating of 85.9 in 16 games.
Editorial credit: Jeff Bukowski / Shutterstock.com