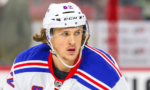 Washington Capitals winger Carl Hagelin is expected to miss an extended period of time due to a serious eye injury.  Hagelin was struck in the left eye with an errant stick during practice Tuesday; general manager Brian MacLellan said the 33-year-old Swede had surgery Tuesday night and will meet with doctors about what comes next in his recovery.
After Wednesday's practice, Coach Peter Laviolette said: "Any time you have an eye injury, there's a concern. First and foremost there's a concern for him and just his well-being. It's unfortunate when something like that happens."  Hagelin has been a valuable part of the Capitols alongside Nic Dowd and Garnet Hathaway.
GM MacLellan added:  "The vision part is the biggest concern. We were really worried last night. I don't know, it's sort of positive news that the examination went in the right direction. But it's still to be determined on what the next steps are and what effect it'll have on him."
The Capitols are currently dealing with numerous injuries; forward Joe Snively is considered week to week with an upper-body injury; and goaltender Ilya Samsonov is being evaluated after taking a shot up high in practice and leaving the ice; and top-six winger Anthony Mantha has missed the past four months recovering from surgery on his left shoulder.
Editorial credit: Kyle Besler / Shutterstock.com