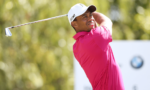 Tiger Woods finished first in the PGA Tour's inaugural Player Impact Program standings, beating out Phil Mickelson for an $8 million bonus as part of a program to reward golfers for their popularity.  Mickelson will still collect a $6 million bonus for finishing second.
The PGA Tour announced the results in a memo to membership. The PIP was calculated using metrics tracking five criteria: internet searches, earned media (news articles mentioning a player's name), social media, TV sponsor exposure and awareness. A $40 million pool was distributed among the top 10 finishers.
Woods finished first in internet searches, awareness and earned media.  The final standings contradict a tweet by Mickelson — Woods' longtime rival — back in December, who announced on social media at the time that he would be the top winner.  Woods jabbed Mickelson on social media when he was named winner of the bonus, simply tweeting "Whoops," along with a screenshot of Mickelson's earlier announcement.
Woods won despite playing only one tournament in 2021, the PNC Championship alongside his son, Charlie. Woods spent most of 2021 recovering from injuries suffered in a single-car crash in February.
Editorial credit: Debby Wong / Shutterstock.com