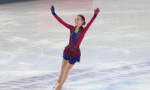 Russian Olympic Committee figure skater Kamila Valieva stumbled and fell during her program on Thursday, ending her controversial appearance at the Beijing Olympics by failing to medal.  Her teammate, Anna Shcherbakova, won the gold medal in the women's free skate.
The 15-year-old Valieva placed fourth in Thursday's free skate; she had been in the lead following the short program earlier this week, but landed only one of three planned quad jumps in her free skate performance. The loss comes after Kamila reportedly tested positive for a banned substance, trimetazidine, back in December, but the Court of Arbitration for Sport decided to allow her to continue competing. Her case caused the team event medal ceremony to be pulled from the schedule because of her positive drug test; and had she placed in the top 3, there would not have been a medal ceremony in Beijing for her or the other skaters.
Valieva's ROC teammate Shcherbakova won the gold, but appeared devastated when the final scores came in. Shcherbakova, who finished with a 255.95 combined score from the two days of competition, stood alone while much of the ROC team consoled Valieva. Valieva didn't speak to reporters after her performance, instead quickly making her way through the room without stopping.
The ROC's Alexandra Trusova won the silver medal after a performance with five successful quad jumps. However, a sobbing Trusova said she didn't want to participate in the medal ceremony — though ultimately, she did attend the event.  Japan's Kaori Sakamoto took the bronze medal in the competition.
The figure skating schedule continues with the pair skating short program Friday night in Beijing. The event airs at 5:30 a.m. EST Friday on USA and re-airs at 8:30 p.m. Friday on NBC. The free skating portion of the pair skating competition airs at 6 a.m. Saturday on USA and re-airs at 8:30 p.m. Saturday on NBC.
Editorial credit: Bukharev Oleg / Shutterstock.com