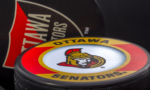 The NHL's Department of Player Safety announced on Sunday that Ottawa Senators forward Austin Watson has been suspended two games for interference on Boston Bruins defenseman Jack Ahcan.
The incident occurred at 8:07 of the first period in the Senators' 2-0 loss to the Bruins on Saturday, when Watson hit Ahcan up high after clearing the puck from the corner and was assessed a two-minute minor penalty for interference.
The 30-year-old Watson will forfeit $15,000 in salary, with the money going to the players' emergency fund; however, he does have the right to appeal the decision.  Watson has two goals and one assist in 30 games for Ottawa this season.
Editorial credit: Kev Gregory / Shutterstock.com