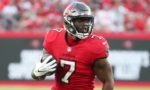 The Tampa Bay Buccaneers are "likely" placing running back Leonard Fournette on the injured reserve list, ending his regular season.  The Bucs are also signing running back Le'Veon Bell pending a physical, according to NFL Network's Tom Pelissero.
Fournette suffered a hamstring injury this past weekend, but he's expected to make a return for the playoffs. The addition of Bell is to fill the hole that the Fournette is leaving behind; his regular season will end with 812 rushing yards and eight touchdowns on the ground. He also caught 69 passes for 454 receiving yards and two scores. B
Bell has only appeared in five games this season when he was with the Ravens; Baltimore released Bell in November. The three-time Pro Bowler tallied 83 rushing yards and two touchdowns in his five appearances so far in 2021.
Editorial credit: Steve Jacobson / Shutterstock.com