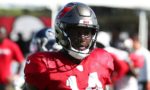 Tampa Bay Buccaneers wide receiver Chris Godwin is done for the season. After taking a brutal hit during the Tampa Bay Buccaneers' shutout loss to the New Orleans Saints on Sunday, Godwin limped off to the sideline and didn't return to the game. On Monday morning, it was reported he'd likely be done for the remainder of the regular season.
According to head coach Bruce Arians, Godwin's injury was initially believed to be an MCL sprain; but after undergoing an MRI it was discovered Godwin suffered a torn ACL, which will not only end his regular season, but the postseason as well.
The news means the return of Antonio Brown from suspension will be imperative to the team's future success. The Buccaneers loss to the Saints pushed them to No. 3 in the NFC playoff seeding, and they can't afford another loss before the postseason arrives.
Editorial credit: Steve Jacobson / Shutterstock.com