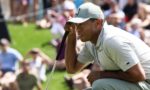 Tiger Woods announced on his official social media accounts that he will play the PNC Championship alongside his 12-year-old son, Charlie, set for Dec. 18-20 at the Ritz-Carlton Golf Club in Orlando, Fla. The PNC Championship is a tournament in which major champions play alongside a family member. Tiger and Charlie played together in the tournament last year.
Woods is less than a year removed from the car accident where he sustained open fractures to the tibia and fibula in his right leg, and said amputation had been a very real possibility.
The PNC Championship format is 36 holes played by two-person teams. Each player hits from the tee and then the team picks which tee shot to play. Both players then hit a second shot from that spot. The process repeats until the hole is finished. Players can also use carts and play from different sets of tees. The laid-back format is not as demanding as a normal event, and it is not a PGA Tour event.
Editorial credit: Debby Wong / Shutterstock.com