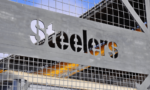 The Pittsburgh Steelers signed defensive lineman T.J. Watt to a four-year, $112 million extension on Thursday. The 26-year-old Watt will earn $80 million guaranteed, making him the highest-paid defensive player in the NFL.
Watt, the No. 30 pick in the 2017 NFL draft, led the NFL with 15 sacks last season, tallying 42.5 sacks over the last three seasons. Watt also led the NFL in tackles for loss in 2020.
The Steelers finished No. 3 in the NFL in scoring defense last season due to Watt's excellence. They've reached the playoffs just once in the last three seasons, losing in the wild card round in 2020.
Editorial credit: StacieStauffSmith Photos / Shutterstock.com