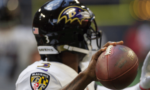 According to ESPN, the Baltimore Ravens are facing concern over running back Gus Edwards and cornerback Marcus Peters after both players experienced knee injuries during Thursday's practice, with the possibility those injuries are in fact ACL tears. The team has not confirmed details of the injuries.
Any potential, serious injuries to Edwards and Peters would mark the fourth blow to Baltimore's roster in recent weeks. Starting running back J.K. Dobbins tore his ACL on Aug. 28, and backup Justice Hill suffered a torn Achilles one week later.
Edwards tallied six touchdowns in 2020 as he split carries with Dobbins, and he's scored 10 touchdowns as a professional since 2018. Peters recorded four interceptions in 2020 after totaling 27 in his first five seasons. If Edwards has to sit out, Ty'Son Williams would become the Ravens' lead running back entering their Week 1 game against the Raiders and beyond. Baltimore signed veteran Le'Veon Bell to the practice squad this week and Head Coach John Harbaugh said Thursday that "there's a chance" he could play against the Raiders.
Editorial credit: Jamie Lamor Thompson / Shutterstock.com