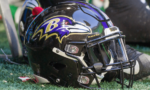 The Baltimore Ravens and tight end Mark Andrews have agreed to a four-year, $56 million contract extension.
Andrews is expected to earn more money than any tight end in football from 2022-25. Ravens general manager Eric DeCosta said in a statement: "We are thrilled to announce a four-year contract extension with Mark Andrews on his birthday. Mark is exactly the type of player we wish to keep as a Raven long-term. He's competitive, passionate, talented and a leader. We are so excited to have him in Baltimore for the next five years. Congratulations to Mark and his family — and happy birthday."
The 26-year-old Andrews was selected by the Ravens in the third round of the 2018 NFL draft, and emerged as Lamar Jackson's top target in 2019, tallying 64 receptions and 10 touchdowns as Baltimore's quarterback won MVP. Andrews has scored 20 touchdowns since entering the NFL, and he's averaged 8.9 yards per target over the course of his career.
Editorial credit: Jamie Lamor Thompson / Shutterstock.com