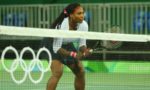 Tennis star Serena Williams said Sunday she won't compete at the Summer Olympics in Japan. The 39-year-old declined to offer a specific reason for her decision to not travel to Tokyo.
Williams told reporters at Wimbledon, which is set to begin this week: "I'm actually not on the Olympic list, not that I'm aware of. If so, then I shouldn't be on it…. There's a lot of reasons that I made my Olympic decision. I don't really want to — I don't feel like going into them today. Maybe another day. Sorry, I have not thought about it. In the past, [the Olympics] has been a wonderful place for me. I really haven't thought about it, so I'm going to keep not thinking about it."  Williams, a 23-time Grand Slam singles champion, is working for an eight Wimbledon title and a record-tying 24th major championship this week.
Williams has captured four gold medals in tennis, most recently in women's singles play in 2012.  Williams beat Maria Sharapova in the women's final to win gold at the London Games, and she partnered with her sister, Venus, to earn gold medals in doubles competition in Sydney in 2000, Beijing in 2008 and London in 2012.
Editorial credit: Leonard Zhukovsky / Shutterstock.com