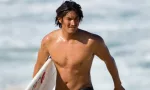 Hawaiian pro surfer Mikala Jones has died following an accident while surfing in Indonesia's Mentawai Islands on Sunday. Jones, known for shooting awe-inspiring photos and videos from the inside of barreling waves, was just 44-years-old.
According to his father, John Jones, Mikala Jones had gone out into the ocean Sunday morning during a trip to the Mentawai Islands off the western coast of Sumatra when his surfboard fin cut his femoral artery (the femoral artery is a large blood vessel in the thigh that delivers blood to lower limbs). The Mentawai Islands in Indonesia's West Sumatra province are renowned for having some of the world's greatest surf spots. Jones' father said a phone interview: "He was a humble artist. His pictures were incredible."  
Born in Kailua, Hawaii, Jones started surfing at about 7 or 8 years old and began competing a few years later. He won two national championships as an amateur. Jones was known throughout the surfing world for his mesmerizing videos, offering a unique first person perspective into the art of tube-riding.  In the 1990s, Jones began to experiment with taking first-person images of himself on the water; he began to use a GoPro after the lightweight cameras were invented (and was eventually sponsored by the company). He used software to stitch together images from multiple GoPro cameras for 360-degree views.
Jones is survived by his wife, Emma Brereton, and daughters Bella and Violet, who split their time between homes in Bali, Indonesia and Hawaii. In addition to his father, Jones is survived by an older sister and two younger brothers. His mother, Violet Jones-Medusky, died in 2011.
Editorial credit: jarvis gray / Shutterstock.com