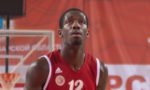 The Chicago Bulls will sign veteran guard Patrick Beverley to a contract for the remainder of the season, as they try to get back into the race for the playoffs.  The Bulls will be Beverley's fourth team in the last three seasons.
In 45 games with the Lakers this season as a starter, the 34-year-old Beverley averaged 6.4 points, 3.1 rebounds and 2.6 assists, while shooting 34.8 percent from 3-point land. The Lakers traded Beverley and a second-round pick to the Orlando Magic at the deadline in exchange for Mo Bamba. The Magic the. quickly waived Beverley, allowing him to become a free agent. Now Beverley's found a spot with his hometown team, the Bulls
Beverley is expected to help strengthen a Bulls team that has one of the best defenses in the league. Exiting the All-Star break, the Bulls are seventh in the league, with a 112.0 defensive rating. However, Chicago have lost their last six games prior to the All-Star break and are now in 11th place in the Eastern Conference at 26-33, putting them two games behind the 10th-place Toronto Raptors.
Editorial credit: Pavel Shchegolev / Shutterstock.com