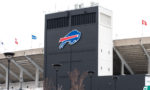 On Thursday, Drs. Timothy Pritts and William Knight IV from the University of Cincinnati Medical Center provided an update about Bills' safety Damar Hamlin; saying he is awake, can move his hands, feet and head, and asked medical personnel who won the Buffalo Bills-Cincinnati Bengals game — which was halted when he went into cardiac arrest on the field three days ago.
Hamlin remains in critical condition in the trauma intensive care unit, but the doctors said he has improved appreciably since arriving at the hospital Monday. Pritts, the division chief of general surgery, told reporters: "There's been substantial improvement in his condition over the past 24 hours. We had significant concern about him after the injury and after the event that happened on the field, but he's making substantial progress. As of this morning, he is beginning to awaken, and it appears that his neurological condition and function is intact."
Pritts said Hamlin came out of sedation Wednesday night, and used a pen and paper to ask a bedside nurse about the result of the Bengals-Bills game, which has been postponed indefinitely. Said Pritts, "To paraphrase one of our partners, when he asked, 'Did we win?' The answer is yes, Damar. You won. You've won the game of life." Pritts said Hamlin "expressed surprise that he had not been with the world for two days," and there are "many, many steps ahead" in his recovery. He also said Hamlin's inquiry about the result of Monday's game was a sign that "all cylinders are firing within his brain."
Knight said Hamlin's rapid improvement "speaks to his age, incredible fitness and the immediate medical response he received" from on-site medical personnel on the field after his heart stopped. Both doctors said it was too early to have the conversation whether Hamlin could return to football field, but Knight said that would be the goal.
The NFL suspended the Bills' Week 17 game against the Cincinnati Bengals after Hamlin and wide receiver Tee Higgins collided in the first quarter Monday in Cincinnati. Hamlin stood up and then collapsed when his heart stopped, and on-site medical professionals administered CPR and resuscitated him before being taken by ambulance to the hospital. The NFL will not resume the Bills-Bengals game that began Monday, according to the Associated Press.
Editorial credit: JoanneStrell / Shutterstock.com