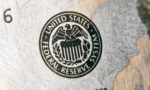 On Wednesday, the Federal Reserve concluded a two-day policy meeting by raising key interest rates by .75% — something it hasn't done in almost 30 years.  The move is seen as a necessary measure to get a handle on rising inflation. The last time the central bank increased rates by .75% was 1994 — just before the economy boom for the late 1990s.  The Fed's decision had an immediate impact on Wall Street; by 2:15 p.m., the Dow Jones Industrial Average was up about 140 points, the S&P 500 was up about 30 points, and the Nasdaq composite had increased by almost 180 points.
With consumer inflation rising at an annual rate of about 8.6%, which is far above the Fed's target range, analysts said the central bank has to be aggressive. The Fed increased rates by a half-point at its last policy meeting in early May, which was its largest increase since 2000.
After the announcement, Fed Chairman Jerome Powell discussed Wednesday's .75% rate increase and explained the reasoning behind it:  "The labor market is extremely tight and inflation is much too high. Against this backdrop today the Federal Open Market Committee raised its policy interest rate by .75% and anticipates ongoing increases to that rate will be appropriate. My colleagues and I are acutely aware that high inflation poses a significant hardship especially on those least able to meet the higher costs of essentials like food, housing and transportation. Inflation has surprised to the upside. In response to these developments, the committee decided that a larger increase within the target range was warranted at today's meeting."
Chairman Powell continued: "Over the coming months, we will be looking for compelling evidence that inflation is moving down, consistent with inflation returning to 2%. Clearly today's 75-basis point increase is an unusually large one and I do not expect moves of this size to be common. We are determined to take measures to restore price stability. The American economy is very strong and well-positioned to handle tighter monetary policy."
Over the past year, the rising costs of energy have fueled inflation in the United States. Gas prices are over $5 per gallon in several states. with the AAA reporting that the national average was $5.01 on Wednesday.  The full economic and inflationary outcome that will result from Wednesday's rate increase won't be known for months.
Editorial credit: alexgo.photography / Shutterstock.com