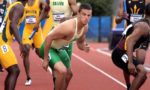 27-year-old rookie wide receiver Devon Allen, who is set to start his NFL career with the Philadelphia Eagles, made track and field history Sunday by running the third-fastest time in the 110-meter hurdles. Allen clocked 12.84 seconds at Icahn Stadium at the NYC Grand Prix. Olympic silver medalist Grant Holloway finished in second place at 13.06.  Holloway is one of two men who have ran the event faster than Allen: Aries Merritt (world record of 12.80) and Holloway (12.81). Merritt set his 12.80 world record in 2012 at the Van Damme Memorial in Brussels, Belgium, while Holloway ran 12.81 last summer at the U.S. Olympic Trials in Eugene, Ore.
Allen, a two-time Olympian, told reporters:  "I thought I could break the record today. Clean up a few things, and four hundredths of a second is four thousandths of a second per hurdle, which is so small. Going to have to wait for another race." Allen said he plans to race in the U.S. Championships on June 23-26 and the World Championships on July 15-24. The receiver gave up a chance to pursue football professionally after college to become on Olympian.  As an Olympian, he finished fifth in the 110-meter hurdles in 2016 at the Rio Olympics and fourth at the 2020 Tokyo Games.
The Eagles signed Allen this April after he worked out for NFL scouts at Oregon's Pro Day.  Allen last played football in 2016 with Oregon. In three seasons with the Ducks, he caught 54 passes for 919 yards and eight touchdowns in 23 games.
Editorial credit: GameDayPublishers / Shutterstock.com