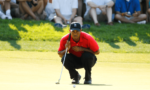 Tiger Woods said via Twitter on Sunday that he was headed to Augusta National to prep for the Masters, for what would be his first tournament since his devastating car crash more than 13 months ago. The 46-year-old Woods, a five-time Masters winner, last won the tournament in 2019.  After his tweet, he was on the tournament practice range at Augusta National on Sunday afternoon, and after hitting balls for about 20 minutes, he went to the 10th tee and was expected to play nine holes.
The 15-time major champion last played at the PNC Championship's father-son event with his son, Charlie, in December 2021. Prior to that, he made his last official tournament appearance at the 2020 Masters in November.  Until Sunday, he had not said anything publicly about his participation in what would be his 24th Masters, however speculation began after he played a practice round on Tuesday at Augusta National with Charlie, and 14-time PGA Tour winner and friend, Justin Thomas.
Woods' single-car crash in 2021 caused him open fractures in the upper and lower portions of his right leg, and additional injuries to his foot and ankle which required screws and pins to be inserted. In April, the Los Angeles County Sheriff's Department said Woods' crash was caused by driving at an unsafe speed and that he was going 75 miles per hour when his vehicle hit a tree.
The 2022 Masters tournament runs from April 7-10.
Editorial credit: Debby Wong / Shutterstock.com