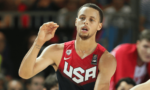 Golden State Warriors guard Steph Curry will be out of play indefinitely due to a sprained ligament in his left foot. Sources say that x-rays on Curry's foot came back negative, indicating there is no fracture or major damage.
The 34-year-old Curry suffered the injury in Wednesday's loss to the Boston Celtics. Curry left the game midway through the first half, played just 14 minutes and putting up three points, one rebound and two assists. At 4:19 in the second quarter, Curry and Celtics guard Marcus Smart dove for a loose ball. Smart rolled up Curry's left leg, resulting in the injury.  Warriors coach Steve Kerr criticized Smart for the play postgame, saying: "I thought it was a dangerous play. I thought Marcus dove into Steph, and that's what I was upset about. A lot of respect for Marcus. He's a hell of a player, a gamer, a competitor. I coached him in the World Cup a few summers ago. We talked after the game and we're good. But I thought it was a dangerous play."
Curry, in his 13th season, is averaging 25.5 points, 5.2 rebounds and 6.3 assists per game through 63 games played this season.
Editorial credit: photoyh / Shutterstock.com