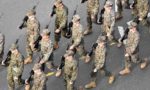 President Biden has agreed to deploy 3,000 additional U.S. troops to Eastern Europe to support NATO and Ukraine to dissuade Russia from any kind of military intervention in Ukraine.  The deployment follows talks between U.S. and Russian officials and a meeting of the United Nations Security Council this week over the Ukraine crisis.
The deployments include 1,000 who will be moving from Germany to Romania, and 2,000 from the U.S. who will head to Germany and Poland. On Wednesday morning, the Pentagon emphasized that the troop movement was temporary and that they would not deploy to Ukraine. ," Pentagon spokesman John Kirby said Wednesday: "I want to be very clear about something. These are not permanent moves. They are designed to respond to the current security environment. Moreover, these forces are not going to fight in Ukraine. They're going to ensure the robust defense of our NATO allies."
The Pentagon has warned that Russian President Vladimir Putin could launch an invasion of Ukraine at any time.  President Biden has said no U.S. troops would deploy to Ukraine if Russia were to invade, but the administration did say it could deploy troops to the region even before an invasion. The U.S. and its partners in NATO have already sent assets to the region in a show of support. The U.S. has also put 8,500 stateside troops on heightened alert to deploy to Eastern Europe in case NATO activates its shared NATO Response Force, but the alliance has not yet activated it.
Editorial credit: roibu / Shutterstock.com