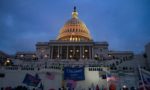 Former Vice President Mike Pence's chief of staff, Marc Short, testified before the House select committee investigating January 6 last week in response to a subpoena; a sign that Pence's team is cooperating with the probe.  According to sources, Short testified before the select committee in person last Wednesday in a lengthy session. Short had previously supplied a limited number of documents that were subpoenaed by the committee, including a memo from Trump aide Johnny McEntee comparing Trump to Thomas Jefferson.
Short was with Pence at the Capitol on January 6, 2021, and participated in a critical White House meeting on January 4, 2021.  He is a potentially crucial witness in the committee's investigation in determining if then-President Donald Trump and his allies tried to convince Pence not to certify the presidential election.
Short's testimony comes as the panel still does not know whether Pence himself will testify. While the committee has had informal discussions with Pence's legal team, sources say that Pence would prefer aides like Short act as the former vice president's "proxy" so Pence himself does not have to appear.
Former President still blames Pence for not trying to overturn the election results in Congress — and Pence has faced a backlash from Trump's base for his role on January 6. Short was with Pence at the Capitol on January 6 when rioters were chanting "hang Mike Pence" and Trump tweeted, "Mike Pence didn't have the courage to do what should have been done to protect our Country and our Constitution." Short was also at Pence's side in the Oval Office for a pivotal January 4 meeting when Trump and attorney John Eastman tried to convince Pence that he could overturn the presidential election results in Congress on January 6.
Editorial credit: Thomas Hengge / Shutterstock.com