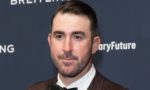 On Monday, Major League Baseball approved Justin Verlander's two-year, $50 million contract with the Houston Astros.
Despite being in the midst of a lockout that started last week, MLB approved this particular contract because Verlander signed it before the expiration of the previous collective bargaining agreement. The 38-year-old Verlander holds a player option for the second year of his new deal.
Verlander hasn't pitched since July 24, 2020, when he picked up the win for Houston in the only game he pitched that season. He underwent Tommy John surgery on Sept. 30, 2020. In 2019 — his last full season — Verlander went 21-6 with a 2.58 ERA while striking out over 12 batters per nine innings and collected his second Cy Young Award.
Editorial credit: lev radin / Shutterstock.com