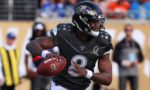 Baltmiore Ravens quarterback Lamar Jackson exited Sunday's game against the Cleveland Browns in the first quarter due to an ankle injury. Jackson was carted to the locker room and was later ruled out for the remainder of the game; backup quarterback Tyler Huntley joined the game in Jackson's absence. The Ravens went on to lose vs. the Browns with a score of 24-22.
After the game, Ravens coach John Harbaugh confirmed that Jackson had suffered a sprained ankle and will have tests on Monday to determine the extent of the injury. The 24-year-old Jackson is in his fourth NFL season. He was named MVP in 2019, and he's tallied 84 passing touchdowns and 21 rushing touchdowns in 48 career starts. Baltimore entered Sunday game looking to avoid its first losing streak of the season following a Week 13 loss to the Steelers. The Ravens are 3–3 since Oct. 24, scoring fewer than 20 points in each of the last four games.
Up Next: the Ravens play the first-place Green Bay Packers at home next Sunday, Dec. 19th.
Editorial credit: Steve Jacobson / Shutterstock.com