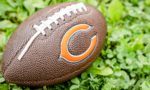 The Chicago Bears snapped a five-game losing streak by beating the Detroit Lions 16-14. Andy Dalton threw for 317 yards, a touchdown and an interception, and Jared Goff went 21-for-25 for 171 yards and a pair of touchdowns. Darnell Mooney caught five passes for 123 yards, and Jimmy Graham caught the lone touchdown of the game for Chicago.
The Bears got a late field goal in the first half to take a 13-7 lead, but just before the end of the third quarter, Detroit scored to give the Lions a 14-13 lead in the game's closing seconds. That score held until late in the fourth quarter, when the Bears drove down into the red zone and pushed ahead with a game-winning field goal by Cairo Santos to snap a five-game losing streak.
The Bears will head home for a few days of rest before their Dec. 5 game against the Arizona Cardinals at Soldier Field.
Editorial credit: PJiiiJane / Shutterstock.com