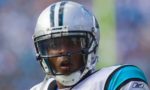 The Carolina Panthers announced on Thursday that free agent quarterback Cam Newton agreed to sign with the team, pending a physical. Sources told ESPN and NFL Network that the contract is worth up to $10 million for the rest of the season and includes $4.5 million guaranteed and a $1.5 million roster bonus.
Starting quarterback Sam Darnold is headed to the injured reserve list, and is expected to miss four to six weeks with a shoulder injury in his throwing arm. P.J. Walker, who is expected to start in Week 10, and Matt Barkley are the other two healthy quarterbacks on the Panthers depth chart. The Panthers signed Barkley earlier this week.
Newton, 32, completed 65.8% of his throws for 2,657 yards, eight touchdowns and 10 interceptions in 15 starts last season for the San Francisco 49ers. He also ran for 592 yards and 12 scores in 2020. The Patriots released Newton in August.
The Panthers (4-5) will face the Arizona Cardinals (8-1) at 4:05 p.m. EST Sunday at State Farm Stadium in Glendale, Ariz.
Editorial credit: Grindstone Media Group / Shutterstock.com