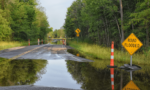 President Biden approved major disaster declarations in New York City and New Jersey following last week's catastrophic flash flooding due to remnants from Hurricane Ida. The storm dropped historic rainfall on a large swath of the northeast stretching from Philadelphia to Massachusetts and hit the New York City metropolitan area particularly hard, with the entire region under a flash flood emergency for most of the night Wednesday. Flash flooding flooded homes, roads and apartments, and at least 41 people died in the storm, with officials still looking for some people who are still missing.
Biden is set to visit New York City and Manville, New Jersey on Tuesday to survey the damage of these hard-hit areas. The disaster declarations cover Brooklyn, Queens, the Bronx and Westchester County in New York as well as Bergen, Gloucester, Hunterdon, Middlesex, Passaic and Somerset counties in New Jersey. The disaster declarations means that residents and business owners affected by flooding and other damage can apply for a bevy of Federal Emergency Management Administration programs to clean up, make repairs and get temporary housing.
On Sunday, New York Gov. Kathy Hochul said Wednesday's storm caused at least $50 million in damages. In New York City, Mayor Bill de Blasio, Sen. Chuck Schumer and U.S. Rep. Alexandria Ocasio-Cortez spent part of the morning touring of storm damage in Queens with Deanne Criswell, the former city emergency management chief who's now administrator of the Federal Emergency Management Agency. At least 17 people died in New York following Ida's historic and devastating flooding last week.
Editorial credit: Laurie B. Webb / Shutterstock.com