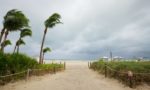 Tropical Storm Fred weakened slightly as it moved inland through the Florida Panhandle, the National Hurricane Center said in its 11 p.m. update. By Tuesday morning, Fred will have weakened to a tropical depression, a storm with a wind speed of 38 mph or less, the hurricane center said. However according to the hurricane center, Fred brought heavy rain and "a dangerous storm surge" to the Florida Panhandle.
Fred made landfall near Cape San Blas in the eastern Florida Panhandle, pounding the region with heavy rain and 65 mph winds, according to the National Hurricane Center. Fred brought 4 to 6 inches of rain to parts of Miami-Dade County, with the more southern areas of the county seeing as much as 9 inches. Areas of South Florida farther north saw 2 to 4 inches over the past seven days. As of 11 p.m. Monday, Fred was 10 miles east of Dothan, Ala., moving north-northeast at 12 mph. Fred is forecast to move from western Georgia on Tuesday across the Appalachian Mountains to West Virginia by Wednesday, the hurricane center said. Tropical-storm-force winds extended from Fred's center up to 45 miles. There was also a chance that tornadoes could form on Florida's west coast and the coastal Panhandle, forecasters said.
More than 20 Florida counties were under a state of emergency due to Tropical Storm Fred.