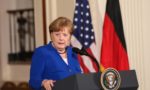 President Joe Biden and German Chancellor Angela Merkel met on Thursday during what is likely to be her last visit to Washington as the head of state before she leaves office.  Biden praised Merkel, noting she was Germany's first female chancellor, whose tenure lasted through four American presidents. At a White House news conference, Biden lauded Merkel's tenure as "strong, principled leadership" and for "never failing to defend human dignity. Here's an exemplary life of groundbreaking service to Germany, and I might add … to the world."
However there were many issues on the political agenda when the two leaders sat down for a private one-on-one meeting, including the split between the U.S. and Germany over Nord Stream 2, the gas pipeline that would run from Russia to Germany. Biden said he raised concerns about the pipeline with Merkel and that the two leaders agreed to look for "practical measures" that could be taken to ensure energy is not used as coercive tool against Ukraine or other allies.
Other issues discussed was the United State's refusal to lift its pandemic restrictions on travel, despite Germany, France and other EU countries seeing COVID cases plummet amid vaccination rollouts. Biden suggested a decision on the travel ban could be coming in a matter of days, answering a German reporter: "It's in the process now. I'm waiting to hear from … our COVID team as to when that should be done." Merkel noted the highly contagious delta variant of the coronavirus was a factor, saying it has been a challenge for both the U.S. and Germany.
Editorial credit: Nicole Glass Photography / Shutterstock.com