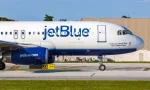 Seven customers and one crew member were hospitzliaed after a JetBlue Airlines flight encountered "sudden severe turbulence" early Monday as it neared Florida, the airline said.
JetBlue said in a statement that JetBlue flight 1256 was flying into Fort Lauderdale-Hollywood International Airport from Guayaquil, Ecuador when it suddenly experienced turbulence. The plane still landed safely and was met by medical personnel on the ground. Seven customers and one inflight crewmember were transported to the hospital for evaluation and treatment. A statement read: "JetBlue will work to support our customers and crewmembers. The aircraft for this flight has been taken out of service for inspection." According to FlightAware, the aircraft landed at around 5.30am on Monday.
The airline said it could not comment on the severity of the injuries, and it was not immediately known if the injured were wearing seatbelts. The airline said the Airbus 320 twin-engine plane was taken out of service for inspection.
Editorial credit: Markus Mainka / Shutterstock.com