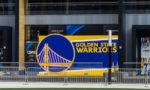 Defending champions Golden State Warriors beat the Los Angeles Lakers 127-100 to even their Western Conference semifinal series at 1-1.
The Warriors scored 41 points in the second quarter and 43 in the third. Klay Thompson topped Golden State with 30 points for the Warriors, with Stephen Curry adding 20 points and 12 assists. For the Lakers, LeBron James led with 23 points, and Anthony Davis scored just 11 points — both sat out the entire final quarter.
Game 3 between the Lakers and Warriors will be held on Saturday, May 6th at 8:30 pm in Los Angeles.
Editorial credit: TMP – An Instant of Time / Shutterstock.com