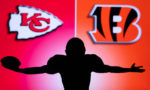 The Kansas City Chiefs scored a field goal with seconds remaining to beat the Cincinnati Bengals 23-20 in a close AFC Championship matchup on Sunday, sending them to the Super Bowl to face the Philadelphia Eagles. The Chiefs sacked Cincinnati quarterback Joe Burrow with less than a minute left before kicker Harrison Butker earned the winning field goal.
Chiefs quarterback Patrick Mahomes played the game with a high-ankle sprain which he sustained in the Chiefs' divisional round win over the Jacksonville Jaguars. The sprain caused Mahomes to limp on at least one occasion during Sunday's game, but he played well, throwing 29 of 43 for two touchdowns and 326 yards. Mahomes said: "I want to thank God, man. He healed my body this week, to battle through that. He gave me the strength to be out here."
After the win, Mahomes said of the Eagles from the field: "They're a great football team. I've watched them all year long. Great quarterback, great entire team, man. It's going to be a great challenge for us … but I'm going to celebrate this one first.nI don't think we have any cigars, but we're going to be ready to go at the Super Bowl."
The Chiefs win marks their third trip to the NFL final in four years, after they broke a five-decade drought to hoist the Lombardi Trophy in 2020 and lost to the Tampa Bay Buccaneers the following year.
The Chiefs will face the Eagles in Super Bowl LVII at 6:30 p.m. EST Feb. 12 in Glendale, Ariz.
Editorial credit: kovop / Shutterstock.com