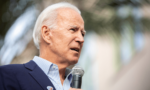 On Wednesday, President Biden visited farmers in Kankakee, Ill., to speak on the impact of the Russian-Ukraine war on the economy, and the White House's efforts to lower food prices in the face of rising inflation.  Said Biden: "America's fighting on two fronts. At home, it's inflation and rising prices. Abroad, it's helping Ukrainians defending their democracy. Putin's war has cut off critical sources of food."
Biden said efforts will be made at the upcoming G7 meeting to both provide food to the world, and to lower prices – something that the war in Ukraine is preventing from getting to market. Said Biden: "They're going to see what action we can take to increase fertilizer supplies globally and identify how we can work together to prevent export restrictions on food and bring more global production to market, which will stabilize prices [and] bring more certainty to our farmers and keep people from dying of hunger."  He added that his administration is working to "drive down the costs to farmers and prices to consumers," and that the market has been distorted by lack of competition, which increases prices.
The White House said in a statement earlier Wednesday: "[Russian President Vladimir] Putin's unjustified invasion of Ukraine has cut off a critical source of wheat, corn, barley, oilseeds and cooking oil. It has also disrupted global supply chains for fertilizer, which farmers depend on to maximize yields. These and other actions, combined with the ongoing pandemic-related disruptions to global supply chains, have put pressure on food prices, with global food prices increasing nearly 13% following Putin's invasion."
Earlier Wednesday, the Labor Department said that consumer prices rose by 0.3% during the month of April — slightly more than most economists projected. In particular, the report said that food prices increased almost 1% last month.
Editorial credit: YASAMIN JAFARI TEHRANI / Shutterstock.com