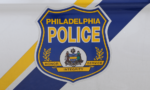 A former Philadelphia police officer who was fired after he fatally shot 12-year-old Thomas "TJ" Siderio in the back in March has been charged with murder.  District Attorney Larry Krasner announced during a press conference on Monday that 26-year-old Edsaul Mendoza was arrested Sunday night and charged with first-degree murder, third-degree murder, voluntary manslaughter and possessing an instrument of crime.  Mendoza is being held without bail.
Mendoza and three other plainclothes officers had responded to reports involving a stolen gun; they were conducting surveillance in an unmarked car when they spotted Siderio holding a Taurus 9MM handgun with another 17-year-old boy, identified as N.K., on March 1.   Krasner said that Mendoza and the other officers — identified as Kwaku Sarpong, Robert Cucinelli and Alexander Camacho — activated their emergency lights and drove toward the boys when Siderio allegedly fired into the car, adding, "when the child fired the gun, that immediately caused three officers to take cover and police officer Mendoza began what can fairly be called a tactically unsound foot chase of the 12-year-old."  Mendoza fired three shots, including the one that killed Siderio, and another officer fired a single shot "once at no target in particular."
Krasner said the charges against Mendoza come after a grand jury viewed video footage that has not yet been made public, which he summarized during the press conference.
Editorial credit: DuskyJay / Shutterstock.com