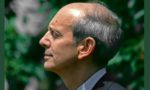 Justice Stephen Breyer will step down from the Supreme Court at the end of the current term. Breyer is one of the three remaining liberal justices, and his decision to retire after more than 27 years will allow President Biden to appoint a successor who could maintain the current 6-3 split between conservative and liberal justices. CNN reports that Breyer does not plan to leave until a new nominee is confirmed to the nine-member court.
Breyer, at 83, is the court's eldest member. He was appointed by former President Bill Clinton and joined the court in 1994. Prior to that he served on the 1st Circuit U.S. Court of Appeals for from 1980 to 1994, the last four years of which he was chief judge. He was nominated to the appellate court by former President Jimmy Carter. Prior to his judicial career, Breyer served as a law clerk to U.S. Supreme Court Associate Justice Arthur Goldberg and as a special assistant to the attorney general in the U.S. Department of Justice's Antitrust Division. During his career he also worked on the Warren Commission and the Watergate Special Prosecution Force.
Liberal activists have urged Breyer to retire while Democrats hold both the White House and the Senate; an appointment by Biden could keep Breyer's seat on the liberal side of the court for years or decades to come. President Biden declined to comment, saying that he will leave it to Breyer to formally announce his retirement. White House press secretary Jen Psaki tweeted saying, "It has always been the decision of any Supreme Court Justice if and when they decide to retire, and how they want to announce it, and that remains the case today."
During his 2020 campaign, Biden pledged to select a Black woman to be his first nominee to the Supreme Court should there be an opening. White House press secretary Jen Psaki told reporters Biden plans to stick to that promise: "The president has stated and reiterated his commitment to nominating a Black woman to the Supreme Court and certainly stands by that. For today, again, I'm just not going to be able to say anything about any specifics, until, of course, Justice Breyer makes any announcement, should he decide to make an announcement."  Among likely contenders are U.S. Circuit Judge Ketanji Brown Jackson of the Court of Appeals for the District of Columbia, a former Breyer law clerk; and Leondra Kruger, a justice on California's Supreme Court.
Editorial credit: mark reinstein / Shutterstock.com