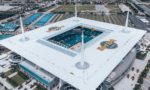 Coming off of seven straight losses, the Miami Dolphins defeated the Houston Texans 17-9 to improve to 2-7 in the 2021 season. The Dolphins forced four turnovers and sacked Tyrod Taylor five times to snap their seven-game losing streak on Sunday at Hard Rock Stadium. Both teams would combine for nine turnovers, with Miami having five and Houston having four.
The win against the Texans was Miami's first win while committing at least five turnovers since Oct. 18, 1990 against the New England Patriots. Sunday's game with nine turnovers was the most turnovers in an NFL game since the New York Jets and Kansas City also combined for nine on Sept. 25, 2016.
Starting Miami QB Tua Tagovailoa was downgraded to an emergency backup role due to a fractured middle finger in his throwing arm. Backup QB Jacoby Brissett took his place, completing 26 of 43 passes for 244 yards and a touchdown. Brissett also threw two interceptions. Houston QB Tyrod Taylor completed 24 of 43 passes for 240 yards and three interceptions. It would be Tyrod Taylor's first interception against the Dolphins in his 167 passing attempts against them.
The Dolphins host the Baltimore Ravens at 8:20 p.m. EST Thursday at Hard Rock Stadium.  The Texans face the Tennessee Titans at 1 p.m. EST Nov. 21 at Nissan Stadium in Nashville.
Editorial credit: YES Market Media / Shutterstock.com