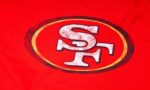 The San Francisco 49ers and linebacker Fred Warner agreed to a five-year, $95 million contract extension on Wednesday. Warner will earn $40.5 million in guarantees, making him the highest-paid inside linebacker in the NFL.
The 24-year-old Warner was named first-team All-Pro this past season, after notching 125 combined tackles and two interceptions in the 2020 season. He tallied 125 tackles in 2020, adding a pair of fumble recoveries and two interceptions, and has finished with 100-plus tackles in each of the last three seasons, including 124 as a rookie in 2018.
The 49ers finished last in the NFC West last season at 6–10 after reaching the Super Bowl in 2019.
Editorial credit: dean bertoncelj / Shutterstock.com