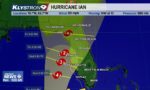 A Hurricane Watch and Storm Surge Watch continues from Tampa Bay southward along the West-Coast of Florida.
Remember that a watch is issued when conditions are POSSIBLE within 48 hours and a warning is issued when conditions are EXPECTED within 36 hours.
Hurricane Ian's structure has dramatically increased and it continues to strengthen. Ian will likely become a major hurricane within 18 hours. Once Ian passes the western part of Cuba and moves into the Southeastern Gulf of Mexico, the conditions do become less favorable and Ian is expected to weaken as the storm moves northward. Wind shear and some dry air will lead to this process. With that said, Ian will still be paralleling our coast as a hurricane. A weakening storm typically comes with an expanding wind field. This means that more of Central Florida will see strong wind and heavy rain.
The forecast track is generally unchanged. One main thing we are looking at is the potential for the storm to slow down in its forward speed around the time that it is moving parallel to our coast. This is NOT a good scenario as it means that conditions will be felt for a longer period of time. As of right now, the strongest of wind (major hurricane force) should stay offshore. Based on current guidance, coastal spots from Manatee County northward through the Nature Coast could experience hurricane force wind gusts. The farther east you go, the lower the chance of seeing hurricane conditions.
Due  to the expanding wind field, much of our area in the Wednesday PM to Thursday time frame will see tropical storm force (40mph+) conditions for a long duration.
Storm Surge will also be a concern within Tampa Bay and along the coast. South to southwest wind will lead to the biggest problem. It is difficult to pin point the exact effect because track differences will make a huge difference. But, with current thinking, Tampa Bay and the Nature Coast, and any tidal based rivers will see some surge issues.
Rainfall will be a significant problem as well. Due to a slower movement of the hurricane, some areas may exceed 10 inches of rain. With an already saturated ground and rivers near flood stage from summer rainy season, fresh water flooding may be a problem.
The timing looks like we could start to see Tropical storm conditions as early as Wednesday morning south of Tampa Bay and lasting through Thursday evening north of Tampa Bay.
As always…exact track forecast is going to change and with a storm paralleling the coast, and shift northeast or eastward, or westward for that matter would have a huge effect on changing conditions.
Stay tuned…