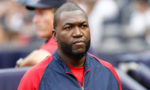 Longtime Red Sox slugger and 10-time All-Star David Ortiz was part of the seven-man 2022 class inducted into the Baseball Hall of Fame on Sunday. Ortiz was the only player voted in by the Baseball Writers Association of America in January. Buck O'Neil, Bud Fowler, Gil Hodges, Jim Kaat, Minnie Miñoso and Tony Oliva were also inducted Sunday after earning election in December through the era committees.
Ortiz said during his induction speech in Cooperstown: "This is such an incredible day, an incredible honor, and I am so humbled to be on this stage right now. If my story can remind you of anything, let it remind you that if you believe in someone, you can change their world. You can change their future, just like so many people who believed in me."
In his first year of Hall of Fame eligibility, Ortiz received 77.9 percent of the vote. Ortiz hit 541 home runs with a .931 career OPS, primarily as a designated hitter, throughout his 20-year career — which includes six seasons with the Minnesota Twins and 14 with the Boston Red Sox.  Between 2002 to 2016, Ortiz hit 503 home runs with .950 OPS and compiled 1,076 extra-base hits, nearly 300 more than any other left-handed hitter.
Ortiz helped the Red Sox to three World Series titles, including the franchise's first in 86 years in 2004. He hit 17 home runs with a .947 OPS in 85 career playoff games and won World Series MVP in 2013, when he batted .688 with two home runs and a 1.948 OPS in six games against the St. Louis Cardinals. Ortiz retired after the 2016 season.
Editorial credit: Debby Wong / Shutterstock.com