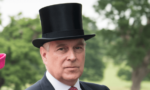 According to documents filed Tuesday in New York, Prince Andrew and Virginia Giuffre have reached an out-of-court settlement in her sexual assault lawsuit against him.  The two parties will file a dismissal upon Giuffre's receipt of the settlement, the amount of which is not being disclosed. Giuffre alleges she was trafficked by convicted sex offender Jeffrey Epstein and forced to have sex with Prince Andrew on three occasions when she was 17.  The 61-year-old Andrew has repeatedly denied any wrongdoing.  Representatives in the United Kingdom for Prince Andrew had no comment after news of the settlement was made public.
The settlement documents stated:  "Prince Andrew intends to make a substantial donation to Ms. Giuffre's charity in support of victims' rights. Prince Andrew has never intended to malign Ms. Giuffre's character, and he accepts that she has suffered both as an established victim of abuse and as a result of unfair public attacks. It is known that Jeffrey Epstein trafficked countless young girls over many years. Prince Andrew regrets his association with Epstein, and commends the bravery of Ms. Giuffre and other survivors in standing up for themselves and others. He pledges to demonstrate his regret for his association with Epstein by supporting the fight against the evils of sex trafficking, and by supporting its victims."  
Prince Andrew's attorneys had argued back in January to dismiss the lawsuit, after it was revealed that Epstein had reached a $500,000 settlement with Giuffre, in which she agreed not to sue any other "potential defendant." Judge Lewis A. Kaplan of the U.S. District Court for the Southern District of New York refused to grant the royal's motion to dismiss.
Buckingham Palace released a statement on January 13 regarding Andrew's royal status, saying he was stripped of his military affiliations and royal patronages. They announced at the time: "With The Queen's approval and agreement, The Duke of York's military affiliations and Royal patronages have been returned to The Queen. The Duke of York will continue not to undertake any public duties and is defending this case as a private citizen."  It is said that Prince Andrew will likely retain his title as the Duke of York and keep his place in the line of succession to the throne, which is currently ninth behind Prince Harry and Meghan Markle's two children. However, he will no longer use the style "His Royal Highness" in any official capacity.
Editorial credit: Chris Allan / Shutterstock.com