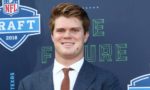 Carolina Panthers head coach Matt Rhule confirmed that quarterback Sam Darnold is out for 4-6 weeks with a shoulder injury; however, Rhule noted that he doesn't think the injury will be season-ending.
In a Wednesday press conference, Rhule said that Darnold was experiencing a different kind of pain following the loss to the Patriots than his previous shoulder injury, but was unsure of exactly when the injury occurred. Rhule said: "I think [Darnold] knows that this is in his best interest to take care of this right now. I think we all see that Sam's a really tough guy. He's willing to play through anything. But it's an incomplete fracture, so we think we caught it where we can manage it in four to six weeks and we can get him back. Obviously, he'd love to play, but player's health comes first."
The Panthers are planning to start P.J. Walker at quarterback while Darnold is out. They also signed Matt Barkley off of Buffalo's practice squad to serve as the backup QB. After starting 3-0, the Panthers are now 4-5.  The Panthers will face the 8–1 Cardinals at 4:05 p.m. on Sunday at State Farm Stadium in Glendale, Ariz.
Editorial credit: Debby Wong / Shutterstock.com