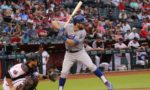 Los Angeles Dodgers' third baseman Chris Taylor hit three homers, drove in six runs, and produced four hits in Thursday's game, helping bring the Dodgers' an 11-2 win over the Atlanta Braves in Game 5 of the National League Championship Series. Taylor is the 12th hitter in history to produce three homers in a postseason game, and the first since Kike' Hernandez for the Dodgers in Game 5 of the 2017 NLCS.
The Dodgers trail 3-games-to- 2 in the best-of-seven NLCS, with the series moving back to Atlanta for Game 6.
NLCS Game 6 is slated for Saturday, Oct. 23 at 5:08 p.m. ET at Truist Park.
Editorial credit: Keeton Gale / Shutterstock.com