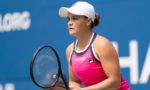 On Thursday, Ashleigh Barty and Karolina Pliskova both advanced to the women's finals at Wimbledon. The top seeded Barty defeated 2018 Wimbledon champion Angelique Kerber in straight sets, 6-3, 7-6(3). Pliskova eliminated No. 2 seed Aryna Sabalenka in three sets, 5-7, 6-4, 6-4.
Barty and Pliskova are both playing in their second career Grand Slams. Barty will be going after her second major title, previously winning the 2019 French Open in her first attempt to capture a Grand Slam. Pliskova is back in a major final for the first time since the 2016 U.S. Open, where she was defeated by Angelique Kerber.
Barty and Pliskova will face-off for the Wimbledon singles title at 9 a.m. EDT Saturday in London, airing on ESPN.
Editorial credit: lev radin / Shutterstock.com